In today's competitive job market, finding the perfect career path can be a daunting task. For those aiming to secure federal government jobs, the challenges are even greater. Federal job applications often require a distinct approach, as they demand comprehensive knowledge of specialized requirements, formats, and intricacies unique to the federal sector.
At the heart of a successful federal job application lies a well-crafted federal resume. Unlike traditional resumes, federal resumes follow a specific format designed to showcase an applicant's qualifications, experience, and accomplishments in a manner tailored to the specific demands of federal agencies. This aims to identify candidates who possess the necessary skills and expertise to navigate the complexities of government work.
This is where the importance of professional federal resume writing services comes in. They can help job seekers with their expertise, insights, and guidance in creating an outstanding federal resume; which, in turn, will capture the attention of hiring managers and elevate their chances of securing coveted government positions.
In this guide, learn about how federal resume writing services can be in your favor as you make your way toward landing your target job. Apart from that, be able to understand what factors or considerations you must keep in mind when choosing which service to hire to cater to your needs.
Rundown of the 5 Best Resume Writing Services for Federal Applications
As a keen job seeker looking to land a federal job, you must also be cautious when thinking of partnering with federal resume writers. With that, make sure to review this list of our top 5 federal resume writing services that you can choose from:
Resume Professional Writers
Upgrade Resume
Resume Valley
Expert Business and Professional Services
CareerPro Resumes
When Should You Use a Resume Writing Service for Federal Jobs?
When it comes to pursuing a career in the federal government, the importance of a well-crafted federal resume cannot be overstated. However, crafting a resume that meets the specific requirements and standards of federal job applications can be tedious or challenging.
So, when should you consider using a federal resume writing service? Is it really worth it? Here are a few scenarios where their expertise can make a significant difference in your job search:
Transitioning from the Private Sector
If you are transitioning from the private sector to the federal government, it's crucial to understand the nuances and expectations of federal hiring processes. A federal resume writing service can help you translate your skills, experiences, and achievements into the language and format that resonate with federal agencies, ensuring your resume stands out among the competition.
Navigating Complex Federal Requirements
Federal job applications often come with stringent requirements and specific formats. These can be overwhelming, especially if you're unfamiliar with them. Hiring professional federal resume writers who have a deep understanding of these guidelines can help you navigate through them seamlessly. And when you do so, you can ensure your resume adheres to all the necessary rules and regulations.
Showcasing Specialized Skills and Qualifications
Certain federal positions require specialized skills or qualifications that may not be highlighted effectively in a traditional resume. Federal resume writing services can help you expertly emphasize your relevant skills, certifications, and experiences specific to the federal sector. Also, they can help you present your unique qualifications in a compelling way, thereby increasing your chances of being considered for those specialized roles.
Maximizing Your Competitiveness
The federal job market is highly competitive, with numerous qualified candidates vying for limited positions. Hence, it's a must to work with an expert resume writer who understands the key elements that catch the attention of hiring managers and can strategically highlight your accomplishments and abilities.
Saving Time and Effort
Crafting a high-quality federal resume demands meticulous attention to detail, extensive research, and ample time. If you find yourself overwhelmed with other commitments or lack confidence in your resume writing abilities, a federal resume writing service can save you valuable time and effort. They will work closely with you to gather the necessary information, tailor your resume to the specific job and format requirements, and deliver a polished final product, allowing you to focus on other aspects of your job search.
How to Choose the Best Resume Writing Services for Federal Posts
Choosing the best resume writing service for federal applications requires careful consideration to ensure you receive professional assistance that aligns with your needs and maximizes your chances of success.
To help boost your efforts in your job search and application, hiring federal resume writing services is a great step. Here's a checklist on some of the most important considerations for choosing the right resume writing service for your needs:
Look for a service that specializes in federal resume writing.
The ideal resume writing service should have a thorough understanding of these processes and be able to guide you through each step.
Review sample resumes provided by the service to assess the quality of their work.
Read client testimonials or reviews to gain insights into their experiences with the service.
Choose a service that offers personalized attention and collaboration throughout the resume writing process.
Consider the turnaround time for resume delivery and the associated pricing.
Determine if the resume writing service offers any additional services or support, such as cover letter writing, LinkedIn profile optimization, or interview coaching.
Don't forget to read and understand their privacy policies and terms and conditions.
The 5 Best Resume Writing Services for Federal
Read through our reviews of the 5 best federal resume writing service providers that can help you secure your desired position.


Resume Professional Writers offers straightforward services for those looking to either improve their current federal resume or craft a new one from scratch. Our team of federal resume writers is equipped with the skills and knowledge in optimizing resumes for federal positions to help you ensure your application is aligned with the job post's requirements and guidelines. This is made possible through our commitment to delivering high-quality services which have granted us unparalleled expertise and credibility in the industry.
What You'll Get: Apart from a keyword-optimized and well-crafted federal resume, you can also avail of our LinkedIn writing services to help you build or improve your professional network online.
What They Lack: As we're only operational during weekdays, we may not be able to get back to you if you send in urgent concerns during the weekends.
Turnaround Time: Expect to receive the first draft of your federal resume after 3 business days.
Cost: Our sought-after federal resume writing service only costs $300.
Contact: 1 (800) 845-0586
Reviews: 4.4/5 on Facebook; 4.3/5 on Trustpilot; 4.13/5 on Sitejabber; 4.4 on Google; 4.8/5 on Best 10 Resume Writers; 5/5 on Glassdoor


Upgrade Resume empowers its clients to invest in their future by helping them get the job they want with a federal resume that increases opportunities and moves them up in pay grades. Their unique approach of using their technical knowledge of the federal hiring process combined with targeted federal resume writing has been a key to aiding job seekers work their way toward career success.
What You'll Get: Expect to receive a federal resume developed for specific vacancy announcements, occupational series, and grade levels.
What They Lack: While there are a few online customer reviews from reputable sites, the firm lacks recent feedback which can affect their reputation for keen clients.
Turnaround Time: Their TAT for this service is after 5 business days.
Cost: Their federal resume writing service costs $599.
Contact: 1-800-715-3274
Reviews: 3/5 on Yelp; 4/5 on Trustpilot


Resume Valley's unparalleled capacity to produce excellent resumes has been one of the top reasons clients value and go back to their services. For several years and counting, the firm has consistently produced applications that bring amazing career results in many industries and fields, including federal jobs. So, whether you are looking for new work, wanting a career change, or targeting a government post, Resume Valley can make your job hunt easier with the help of a well-written resume.
What You'll Get: Low-service rates without compromising work quality is embedded into every output that Resume Valley produces.
What They Lack: The firm doesn't provide any supplementary job search tools or services beyond these offerings.
Turnaround Time: Receive your federal resume in a matter of just 5 business days. However, you can avail of their 24-hour rush service for an extra $70.
Cost: Be able to have an expertly written federal resume for only $99.
Contact: 1 (877) 780–7377
Reviews: 3.6/5 on Trustpilot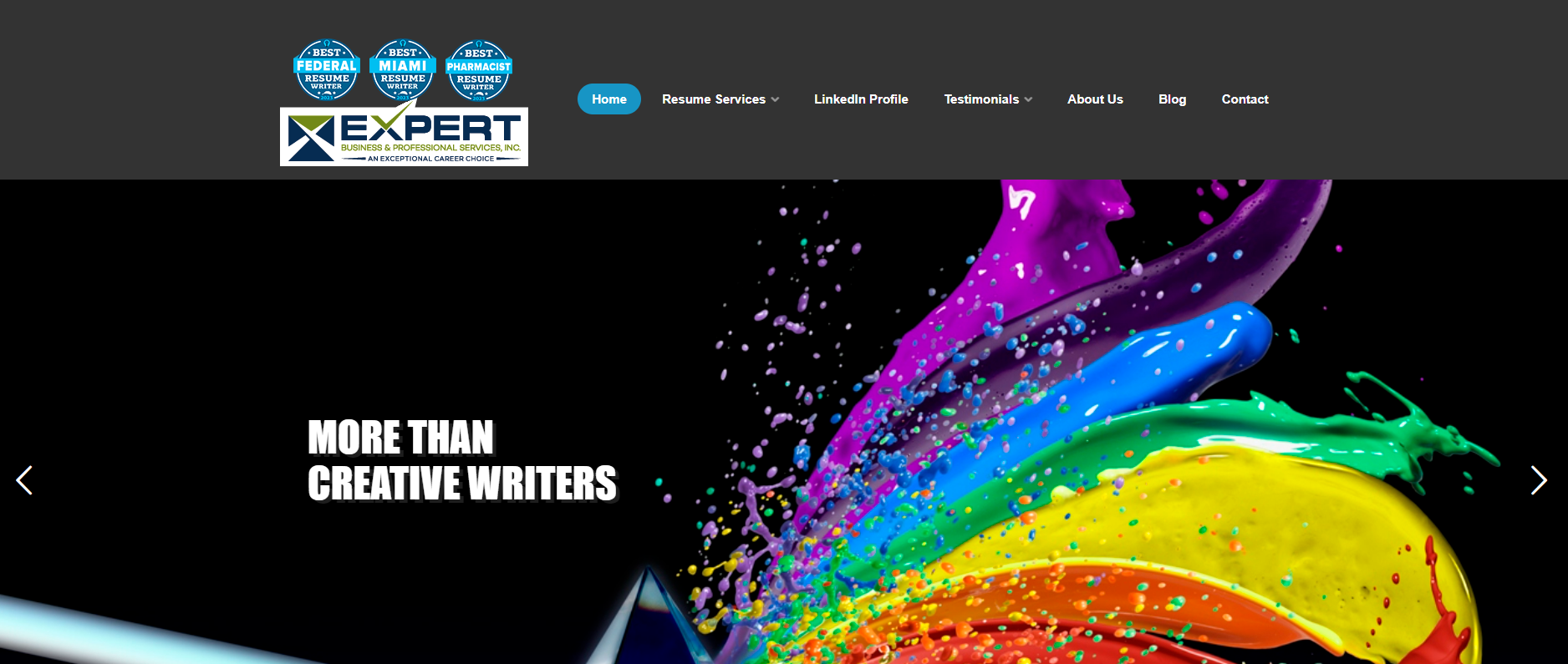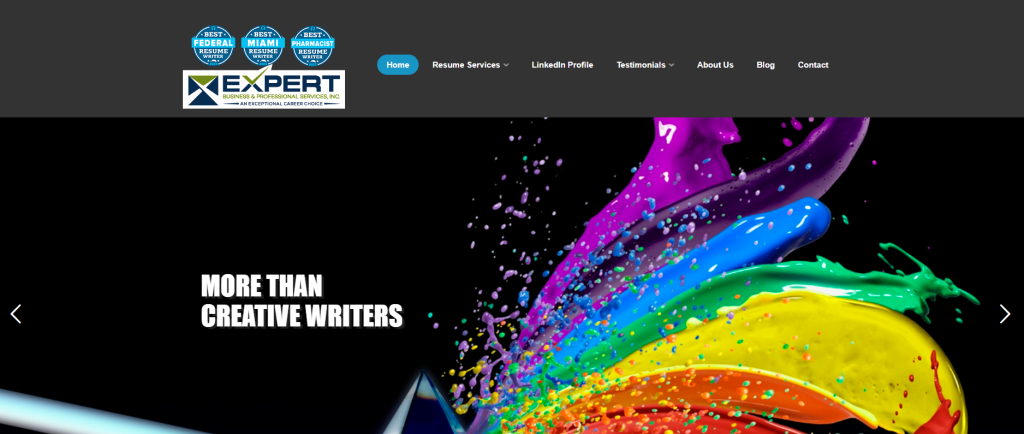 As nationally recognized experts in the federal resume writing field, Expert Business and Professional Services offers the best individualized service for first-time federal job seekers, as well as current employees up to executives. Also, the firm provides after-support and cutting-edge advice on the best professional job search strategies.
What You'll Get: Since the firm believes every client is unique, expect to closely work with their writers as they take their time in writing resumes based on time, complexity, and the work involved in a project.
What They Lack: While they operate on Saturdays, the business is closed during Sundays; which can be a letdown for clients in a hurry of those with urgent concerns.
Turnaround Time: Their TAT may vary.
Cost: The average price range of their services is $599+.
Contact: (954) 236-9558
Reviews: N/A


Serving tens of thousands of satisfied clients since 1958, CareerPro Resumes' team of writers has been committed to working closely with their clients to create achievement-oriented resumes and consistently increase client interview rates, job offers, and salary levels. This way, they can help maximize client success in diverse environments, including federal government jobs.
What You'll Get: Receive a federal resume that you can use in improving your job application as you let your document highlight your unique qualifications and accomplishments.
What They Lack: The prices of their services and packages aren't stated on their website, which can potentially discourage clients from availing since they have no initial idea on how much they'll be paying.
Turnaround Time: Their delivery time also isn't mentioned.
Cost: Available upon inquiry
Contact: 404-252-8777
Reviews: 4.2/5 on Trustpilot; 5/5 on Sitejabber
RPW Federal Resume Example
To help you better apply strategies on revamping your resume, here's a federal resume example we've created for one of our clients. Use this as your guide to know what an effective federal resume looks like.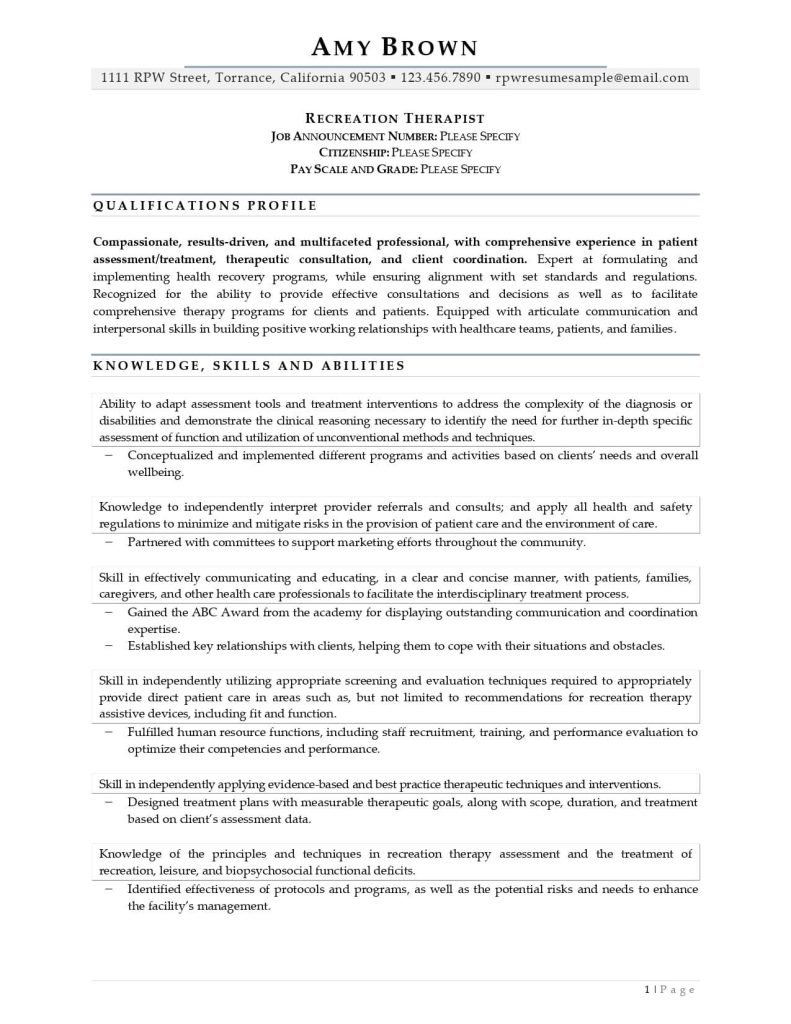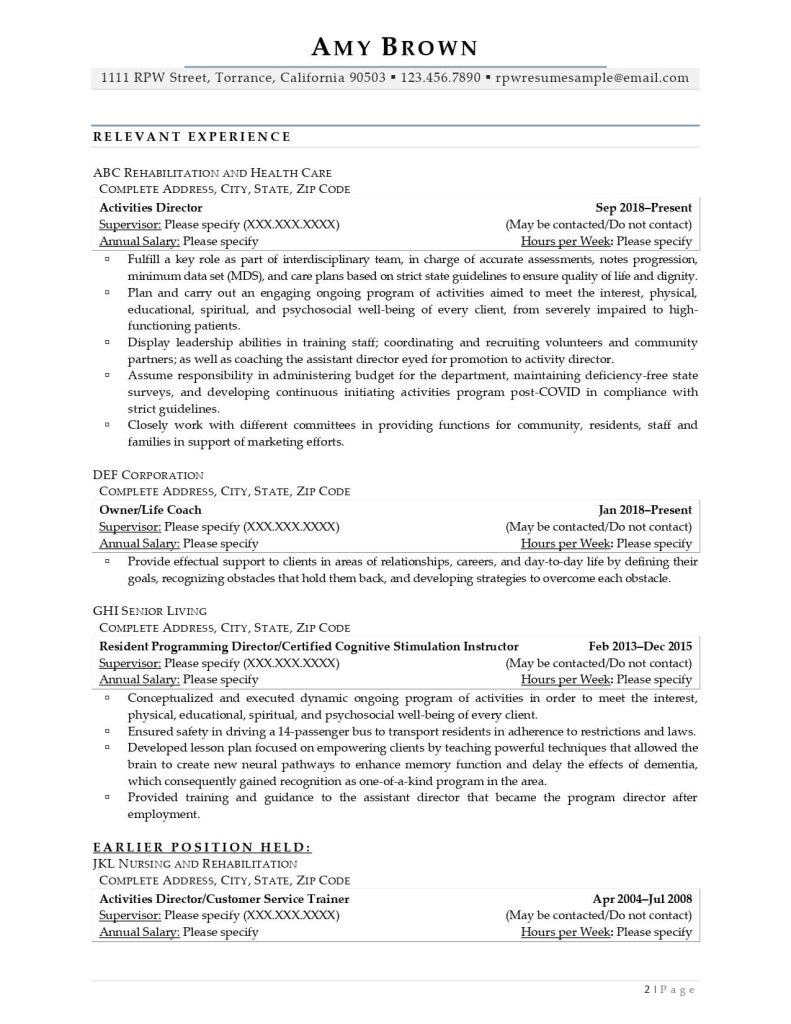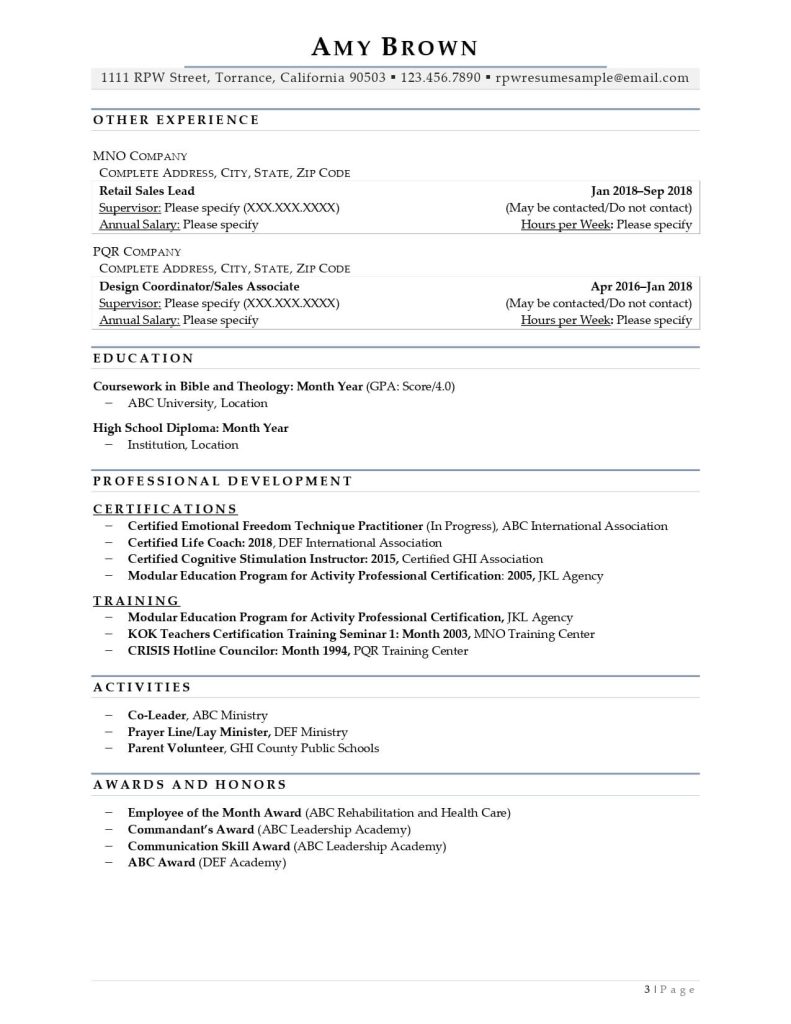 Browse through other federal resume examples and tips to further guide you on how to effectively write your resume.
Land Your Target Job Post with the Help of the Best Federal Resume Writing Services
Even if crafting a compelling federal resume seems complicated, you now know that you don't have to do it on your own without seeking expert help. By partnering with federal resume writing services like Resume Professional Writers, you can unlock the potential to showcase your qualifications, skills, and experiences in a manner tailored to the demands of federal agencies.
What are you waiting for? Boost your chances of landing your target government job with the help of our federal resume writing service. Contact us today for inquiries or avail of our free resume review to get started.