Vancouver's competitive job market is a reflection of how desirable a place it is to live and work in. Because of its thriving economy and high standard of living, Vancouver pulls in a sizable pool of highly qualified professionals from all over Canada and the world. As a result, many job aspirants want to pursue a career there. However, it's challenging for them to secure employment.
If you're one of them, you need to have what it takes to land your target post. Plus, you need to clearly communicate your qualifications and value offer in your job search tool. Fortunately, there are resume writing services in Vancouver that can help you get the attention of recruiters. With their expertise in resume writing and career development, you have better chances of standing out among other qualified candidates.
Rundown of the 5 Best Resume Writing Services in Vancouver
There's no denying that partnering with resume writers can aid you ace the job search game. Nonetheless, it's essential to hire the best service provider to take advantage of its services. This is why our team of researchers and career experts spent hours and hours looking for trusted resume writing services in Vancouver.
We make sure that the companies that made the cut have the same caliber as Resume Professional Writers. Check out our shortlist.
Why Hire Resume Writing Services in Vancouver
Resume writing may sound easy, but it actually takes skills to write an effective one. Not to mention the time and effort you have to put in to make sure all your relevant experience and credentials are strategically outlined. Trusting the job to experts can ease the heavy burden because they can do the "dirty" work for you.
That being said; hiring resume writing services in Vancouver helps you present your qualifications and showcase why you're the best fit for the job. They're able to craft a resume that can impress hiring managers and beat the applicant tracking system (ATS).
If you're still not convinced about the advantages of resume writing services, here are more reasons to help you make up your mind.
5 Reasons to Hire Resume Writing Services
1. Reputable resume writing services guarantee to deliver customized, ATS-friendly job search materials.
2. Professional resume writers are experts at outlining why you're the best candidate for the post.
3. You have more time to get ready for the job interview and file the necessary documents.
4. There are resume writing companies that offer a money-back guarantee.
5. If you need more job search assistance, some firms provide job search resources, career guidance, or job posting services.
How to Choose the Best Resume Writing Services in Vancouver
When it comes to resume firms, choosing the right one is crucial to the effectiveness of your job search documents. Therefore, it's important to hire a company that you can trust. Here are a few things you can do to ensure you get the best service at the best price:
Read online reviews from trusted sites like Google, Trustpilot, and Facebook.
Request a consultation to determine if their services are within your budget.
Examine their resume portfolio to determine the skills of their writers.
Review their privacy and service agreements.
The 5 Best Resume Writing Services in Vancouver
Ace your job search with the help of expert resume writing services in Vancouver. Check out our top picks.

Resume Professional Writers is one of the pillars of resume writing in the US, and it's been helping job seekers even across borders. We're not just committed to excellence; we're also passionate about what we do. This is backed by our high customer satisfaction rating of 96%.
We don't operate during weekends and US holidays.
Our team works with professionals in various fields. Hence, we offer civilian and federal resumes, CVs, LinkedIn profile writing, and job postings. We also have the following services:
Annotated portfolio writing
Cover letter
Electronic resume
Essay
Executive Core Qualifications (ECQs)
Image building with custom logo design
Knowledge, Skills, and Abilities (KSA)
Opening statement in job interview
Professional biography
Reference page
Responsive resume website
Statement of purpose for college admission
One (1) to four (4) business days
We offer four (4) packages and here are their service rates:
Basic Package: $125
Deluxe Package: $195
Premium Package: $305
Ultimate Package: $485
With our professional-looking website that's easy to navigate, our clients don't have a hard time looking out for our services and proceeding with the transactions.
Our customer support team undergoes regular training in client management and career development.
We're confident that we only provide nothing but the best resume writing services. However, we understand there could be instances when you want some changes to the draft. That's why you can request unlimited revisions, for free.
4.4/5 on Facebook;
4.4/5 on Trustpilot;
4.13/5 on Sitejabber;
4.4 on Google;
4.8/5 on Best 10 Resume Writers;
5/5 on Glassdoor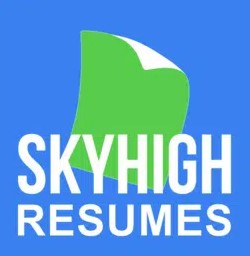 SkyHigh Resumes has been in business for 12 years. They have been serving job seekers in Alberta, Calgary, Edmonton, Kelowna, Vancouver, and Victoria. Despite being a small resume writing company, they are committed to making a difference by helping professionals in various fields.
Their resume writers have an extensive background in recruitment. Because of this, they claim that they only craft job search tools that can impress recruiters.
Since they only have two (2) resume writing professionals, their turnaround time is longer compared to their competitors.
Aside from resume writing services, they also have LinkedIn branding, cover letter writing, and rush services.
Five (5) to seven (7) business days, but you can get your resume in three (3) business days if you pay for their rush services.
They offer three (3) plans, and each has three (3) packages:
Junior level: $199, $299, and $399 for Starter, Pro, and Premium, respectively
Mid-career level: $299, $399, and $599 for Starter, Pro, and Premium, respectively
Management level: $499, $699, and $799 for Starter, Pro, and Premium, respectively
Their website is easy to use because it only contains the necessary landing pages clients need to purchase. Another feature of their site is that they post an advisory about their next available date.
They're responsive to queries and concerns. You can also expect that they'll be working closely with you to make sure they can meet your expectations.
They offer revisions, but only within seven (7) days after receiving your first draft.

Another one of the top resume writing services in Vancouver, Maple Road's professional resume writers are equipped to create job search tools that are tailored to the Canadian job market. In addition, they house a team of HR specialists who claim to provide personalized guides to help you in your job search.
You can utilize their free job search checklist to guide you in advancing your career. They also offer post-service support to ensure that you're prepared for the next step—job hunting.
They have limited services compared to those of their competitors.
They have resume writing, cover letter writing, LinkedIn profile building, and job interview training services.
Seven (7) to ten (10) business days, but you can avail of their rush services
They offer four (4) packages:
Essential: CA$397 for one-time pay and CA$198.50 for two installments
Intermediate: CA$620 for one-time pay and CA$310 for two installments
Complete: CA$730 for one-time pay and CA$365 for two installments
Premium: CA$880 for one-time pay and CA$440 for two installments
Their website looks nice, making it engaging to browse through their pages. All important details are presented, so it's easy to look for the information needed to make a transaction.
They have a dedicated team that can address your concerns. Moreover, they have free consultations. You can reach them by email or phone.
Once you have the first draft, you'll have a second meeting to discuss your new resume and how you want to optimize it.
FutureWorks is headed by Dorothy Keenan. She has 25 years of experience helping individuals find fulfilling jobs in different industries, including technology, science, finance, and manufacturing, to name a few. She's not just a professional resume writer; she's also a certified retirement options coach and Myers-Briggs type indicator.
This firm assists professionals from looking for a job to retirement.
Its services are more expensive compared to those of its competitors.
They offer job search tools such as resumes, cover letters, thank-you letters, networking letters, LinkedIn profiles, and professional biographies. Additionally, they have outplacement, career assessment, and retirement options.
They have five (5) resume package pricing:
Entry-level: $695
Mid-level: $940
Senior-level: $1150
Management: $1360
Executive: $1570
Their website loads quickly. Some landing pages are text-heavy, but the overall design is clean.
You can connect with their team by booking a consultation through email or call. Their strategy sessions with clients could be either in-person or by phone.
They provide two rounds of revisions before giving you the final copy in Word and PDF.

Resume Valley boasts that they are able to create resumes that are effective due to their extensive industry expertise. They strive to collaborate closely with their clients to ensure that their final product meets their expectations and enhances their chances of securing their ideal job.
The cost-effectiveness of their services makes them an ideal choice for budget-conscious clients.
While headquartered in the US, they don't hold in-person appointments.
They offer job search documents such as resumes, curriculum vitae, cover letters, thank-you letters, follow-up letters, reference pages, and statements of purpose. They also have LinkedIn profile writing services.
Here are their three (3) affordable services:
Civilian resume: $99
CV: $99
LinkedIn profile: $69
The design of the interface is minimalistic and concise. This allows users to quickly find information.
You can reach them via phone or email.
After receiving your final copy, you can still request revisions within 6 months from the date of your sign-up.
3.6/5 on Trustpilot;
9/10 on Best 10 Resume Writers
Conquer the Job Market with Resume Professional Writers
To succeed in the competitive job market, you need to showcase your unique strengths and differentiate yourself from other applicants. Thus, hiring reputable resume writers in Vancouver will play a key role in boosting your chances of getting hired.
Here's the good news: You don't need to look elsewhere. We have the right team to aid you in achieving your career goals. Our writers stay up-to-date with the latest industry trends, enabling them to customize resumes to show off your abilities in the best way possible.
What are you waiting for? Partner with us and let us write you a resume that brings results. Contact us today!